Georgia Burns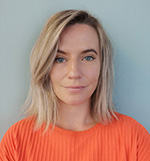 MA Graphic Design and Art Direction, 2018/2019
I came to Manchester School of Art in 2018, to study an MA in Graphic Design and Art Direction. My primary reason for this was to make my practice more community focussed and to break free from the studio environment. The MA's structure involved a four month module called 'Options Unit' which gave me the opportunity to work with Clive Parkinson and Helen Felcey on a Manchester based external project. Both of their contacts in the Arts for Health industry, meant that our project group had the choice of a number of professionals practicing in the area. This allowed us to negotiate the project that was best suited for our collective abilities. With the teaching and guidance of Clive and Helen we were able to make an impactful project that helped increase engagement with a community in Manchester. My client base has grown since working with professionals and communities and I have completed a number of freelance commissions/projects. The contact with health and social change professionals is ongoing and has attributed greatly to my continual professional development.
Claire Ford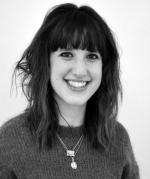 Churchill Fellowship awarded to Arts for Health intern
Working alongside Clive Parkinson, the Director of Arts for Health during the summer months of 2010 as an intern was a fantastic opportunity. It really made me think and focus around the concept of 'healthy aging' and the effects that the arts can have on those people with dementia.
I have always had an interest in arts and dementia and have regularly been developing these through workshop delivery, networking evenings and research. These ideas have always been supported by Clive's enthusiastic outlook which inspired my application for a Winston Churchill Fellowship.
Never in a million years did I think I would be awarded a fellowship, but due to the increased need for support and development in techniques for individuals with dementia, this dream came true. Without both the initial courses I completed with Arts for Health and the internship I would not have had the confidence to undertake such a prestigious opportunity.
The Winston Churchill Travelling Fellowship will allow me to travel to New York and Washington to work alongside practitioners in the US both at the Museum of Modern Art (MOMA) and at the Centre of Creative Aging. I intend to visit and volunteer at these organisations, investigating and travelling to relevant health bodies who have taken the supporting programmes on board.
I also aspire to develop my own knowledge and experience, bring back attributes from the US to influence similar practice in the UK. I aim to broaden the horizons of those working within dementia, promoting the arts as a health tool, but most importantly I hope to create 'successful aging' for this growing population.
I would like to take this opportunity to thank Clive Parkinson for his constant support through my personal journey to achieving a fellowship. Without Arts for Health I would not be where I am today.
Kate Jablonska
BA (Hons) Interactive Arts
I first met Clive Parkinson – Director of Arts for Health at the MMU in January 2010 on "Pathways into Arts and Health". His commitment and vision inspired me to relate my networking skills from BA (Hons) Interactive Arts and my creative practice to health and wellbeing. Clive became my mentor and a fundamental part of my independent projects in Central Manchester Foundation Trust (CMFT).
Skills from Interactive Arts, "Pathways" programme and Clive's support further enhanced my ability to successfully lead my first Arts & Health Project: "Medicine Below the Surface; A poetic introspection" - Exhibition in Education Campus in Manchester Royal Infirmary (MRI). I used my work place in the hospital to build a network with Communications, Patient Partnership Involvement (PPI), Education Campus Management Departments and Lime Arts – the key parties for Arts in Trust. I gained insight into some of the Trust's policies and guidelines to follow whilst applying artworks and planning art sessions for patients.
The exhibition received a wide, positive response in the hospital and developed further into creative consultation workshops and a commission of artwork in Manchester Royal Eye Hospital, another exhibition and fundraising project for the CMFT Charity. I had the opportunity to run the King's Fund pilot workshop in MREH exploring "The Good, the Bad and the Ugly" features in health settings, which was a starting point of my project there. The undergoing sessions aim to generate the ideas for themes and colours of the commissioned artwork.
The 2nd Exhibition in Education South in CMFT is a joint effort of Moira Walton and myself. We created illustrations of Manchester Royal Infirmary, which will be then made to postcards and sold to generate income for the CMFT Charity.
My projects in MRI became a subject of my HCC 3 Report from an external project and have been awarded by Un Ltd with the Millennium Hefce Award in December 2010. Other benefits include the support from the hospital dean and Associate Director of Medical Education, the opportunity to work with Brian Chapman – Director of Lime Arts, the "Trust Wall Group" and PPI team, publicity in Lime's newsletter, on Arts for Health website and internal media in CMFT. In February 2011 I had the opportunity to run an art session on Young Patients Event in Royal Manchester Children's Hospital.
Link with the Arts for Health at the MMU was the starting point of the most exciting and rewarding journey within public and community arts. I am now a member of North West Arts and Health Network, King's Fund EHE Network and a board member of Creative Hands Foundation.
In the future I'd like to undertake a Post Graduate research course within the Arts for Health at the MMU.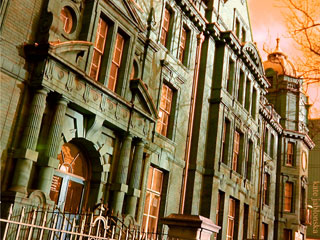 Darren Browett
MA Three Dimensional Design
My work enters into a journey connected with the lived human experiences that make us who we are and give us a sense of our time and place, and to objects that mark out these life events. I approached Clive Parkinson, Director Arts for Health whilst studying for my Masters at MMU and with his input my project advanced into a 'real-life' healthcare setting as I was fortunate to be offered a placement at the Riverside Ward, Newholme Hospital in Bakewell, run by the Derbyshire Primary Care Trust. This collaborative enterprise with Arts for Health at MMU provided the opportunity to work with people who are experiencing dementia and to design experiences for them that promote openings for communication and interaction in new and innovative ways.
My first point of contact at the assessment ward were the Occupational Therapists who represented an untapped resource of people who were excited to become involved. With their support we completed a number of stimulating and lively discussion based sessions where patients engaged with my work, in the form of crafted objects entitled 'Fortuitous Novelties', that resemble seedpods and contain sets of symbolic images. The favourable response to these 'pod' objects has suggested they are of value as therapeutic tools for individuals experiencing dementia, who struggle to express themselves to others.
My work with Arts for Health proved most gratifying as it demonstrated improvements in mood and the quality of life for people with dementia, and also enhanced the quality of social interactions between patents, care staff and families. This brought to light the great deal of immediate work that can be done to enrich the lives of those experiencing dementia, rather than looking to the future for a pharmacological 'magic bullet'. The aim is to continue to build on this work we started on Riverside Ward, to develop an ongoing culture of design research around dementia.
For more information on the Fortuitous Novelties project visit the website darrenbrowett.wordpress.com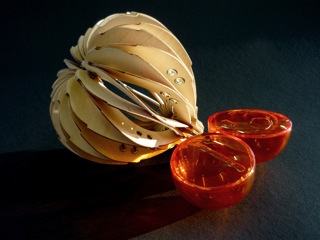 Anna Matthams
MA Contemporary Curating
My interest in arts for health is predominantly due to the large amount of evidence that suggests performing and visual art can help relieve anxiety and stress in the healthcare environment, and assist with recovery. I also hold a personal believe that art can have huge positive effects when taken out of the conventional gallery setting. Being able to get involved in Arts for Health helped me to learn more about this fascinating sector, gain practical experience and channel my knowledge and energy into something I felt passionately about.
I first became involved in Arts for Health when studying for my MA Contemporary Curating at MMU. I worked with them in helping to create an exhibition in the new St. Helen's hospital based on the history of the old hospital. I also helped with the selection process for commissioned artwork in the Whiston Hospital, which helped me to gain knowledge on the commissioning and selection process for contemporary art in hospitals. This experience undoubtedly helped me to get my new job as Arts Assistant for Hospital Arts, part of Chelsea and Westminster Health Charity.
In my current role, I help to devise and run performing and visual arts projects in Chelsea and Westminster Hospital. This includes managing gallery spaces within the hospital and co-ordinating lunchtime music performances that take place in the hospital atrium and in the wards and clinics.
Caro Inglis
MA Design Lab
Attending the Arts and Health course gave me access to contacts that have proved invaluable in shaping what I do.
I graduated from MA Design Lab in 2009 and attended the Arts and Health course in the autumn of that year. Clive had been enthusing about a local organisation, blueSCI, based in Trafford. During the course I attended an Arts and Health conference at MMU where I heard a presentation by one of the directors of blueSCI. What I heard really inspired me. It resonated with the work I had done on the MA about increasing social inclusion through engaging with creativity. I went on to volunteer at blueSCI and was based there as Artist in Residence during Spring 2010. Had loads of creative fun there.
Through having formed connections with other volunteers during the residency we have recently become a Community Arts Group - SCILight. I've also received an award from UnLtd Engage, which will supply funds to refurbish our art rooms and invest in digital equipment. We work within intergenerational and intercultural groups and I am now embarking on various digital art projects, which will culminate in an exhibition at Waterside Art Gallery in November 2011 – part of which will challenge common perceptions of ageing.
In my practice I am particularly engaged in how hand made and digital influence each other. The way that light interacts with and penetrates various forms and materials is another fascination and I have been exploring using hand made paper and other materials that are then embedded within glass. I have also been investigating pattern and colour through digital photography. The communication of meaning through the manipulation of all these things is the underlying drive.
I have found working within groups where I can share my creative obsessions very rewarding and attending the Arts and Health course has allowed me to access these groups. As a consequence I have been able to define my creative direction and I see that my involvement with Arts for Health has been a key part of this process.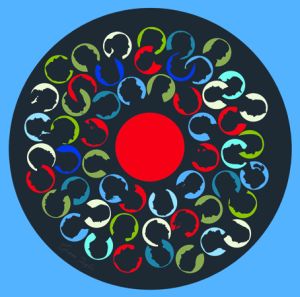 Digitally printed canvas, 1 metre square Title: blueSCI June 2010
Andrea Hamer & Vicki Ormerod
MA Design Lab
We believe that the way an environment is designed affects how people behave and feel. It has been well understood for some time now that high quality healthcare buildings have a positive impact on our health. People are happier in environments where they feel comfortable and confident; where they can be engaged with their environments while still being able to make sense of them. We believe healthcare environments must be designed so that they connect people to their surroundings in an innovative and intuitive way. Working alongside Arts for Health enabled us to work directly with a real hospital as part of our MA. The Babington Hospital Day Care Unit in Belper, Derbyshire wanted us to create a welcoming, comforting waiting room where people could feel relaxed. Arts for Health have provided us with indispensable guidance and advice to enable us to develop and advance our skills to suit the healthcare environment.
Although we had never worked in the healthcare field before, we found that our interests naturally correlated with that of Arts for Health, and that our work could easily be applied to the given environment. Additional considerations such as suitability, maintenance and health and safety were necessary to take into account and allowed us a challenging project to undertake with Arts for Health. Following their MA, Andrea and Vicki have continued working together as VAnicki, a forward thinking and collaborative design team with a serious commitment to simplicity, quality and innovation. VAnicki's vision is create inspiring environments predominantly across the healthcare sector, as well as working on commercial and residential spaces, offering bespoke design skills.
For more information on VAnicki please email vanicki@hotmail.co.uk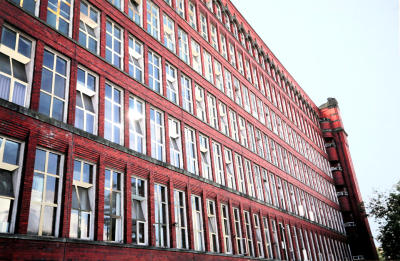 Image of commissioned piece for Babington Hospital Day Care Unit in Belper, Derbyshire
Anne Kellock
PhD, Arts for Health
Anne completed a BA(Hons) in Primary Education with Visual Art and an MSc in Psychology and Counselling, both as a student at MMU. Following six years teaching experience Anne returned to spend four years working with Arts for Health at MMU to complete a fully funded studentship PhD entitled 'Children's Perspectives of Well-Being through Photography'.
Anne has published widely around the Arts and Health field and is now working full time as a Senior Lecturer of Childhood Studies at Sheffield Hallam University.